From the Brand
BOSE SLEEPBUDS II
Your best sleep ever.
Bose Sleepbuds II uses sleep technology clinically proven to help you fall asleep faster. They don't stream music or podcasts, instead, they work with the Bose Sleep app to deliver soothing sounds to lull you to sleep and Bose noise-masking technology so you stay asleep with fewer disruptions.
Wake up to an alarm only you'll hear.
Better mornings
When you set an alarm in the Bose Sleep app, it plays through the sleepbuds so you don't disturb a sleeping partner. The alarm will peacefully wake you from a restful sleep.
SLEEP STUDY
User-tested sleep technology
In a Bose-sponsored sleep study by the University of Colorado Anschutz Medical Campus and the UCHealth CARE Innovation Center, Bose sleep technology was clinically proven to help users fall asleep faster. The study also found that all participants believed the noise was blocked effectively, like snoring and traffic. In addition, when surveyed, 8 out of 10 participants reported improved overall sleep quality and 76% felt it was easier to stay asleep and all believed the noise was blocked effectively.
How it all comes together
With innovation packed inside a tiny form factor, Sleepbuds™ are uniquely designed to keep you sleeping comfortably all night, every night.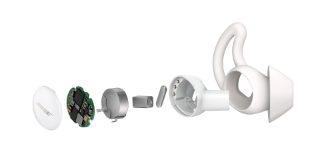 Technical specifications
Earbuds (including size 2 ear tip):

0.98″ H x 1.1″ W x 0.5″ D (0.08 oz)

Charging case:

3.03″ L x 3.03″ W x 1.08″ H

USB cable:

39″
Earbuds: Plastic
Eartips: Silicone
Case: Aluminum
Battery life: Up to 10 hours
Earbud battery charge time: 6 hours
Charging case battery charge time: 3 hours
Battery charge method: USB
Battery type (Sleepbuds™): Nickel-metal hydride
Battery type (case): Lithium-ion (pouch cell)
Automatic on/off feature to preserve battery life
Bluetooth range: Up to 30 ft (9 m)
Bluetooth version: 5.0