From the Brand
The watch that knows you best
Most of us want to know more about ourselves, so we can be the best version of ourselves. That's why we engineered the all-new Galaxy Watch4 Classic to be the companion to your journey towards a healthier you. 1
A classic
that's truly
timeless
DESIGN
This rotating bezel turns more than heads
Some looks are timeless, like the Galaxy Watch4 Classic's rotating bezel and vivid screen. The refined design brings sophistication to your wrist and its high-end stainless steel materials express its powerful and intuitive functionality.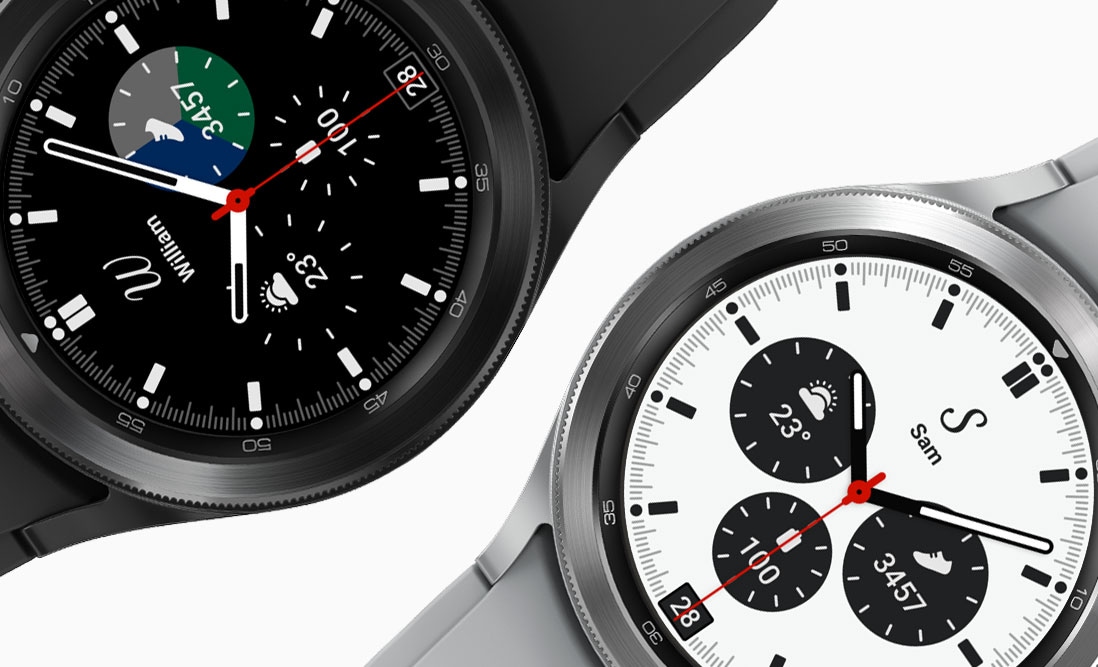 Strap in and
start moving
Stay comfortable all day long with the Ridge Sports Band. Its fluoroelastomer material keeps the band durable and sweat-resistant while maintaining a firm fit on your wrist to suit your active lifestyle.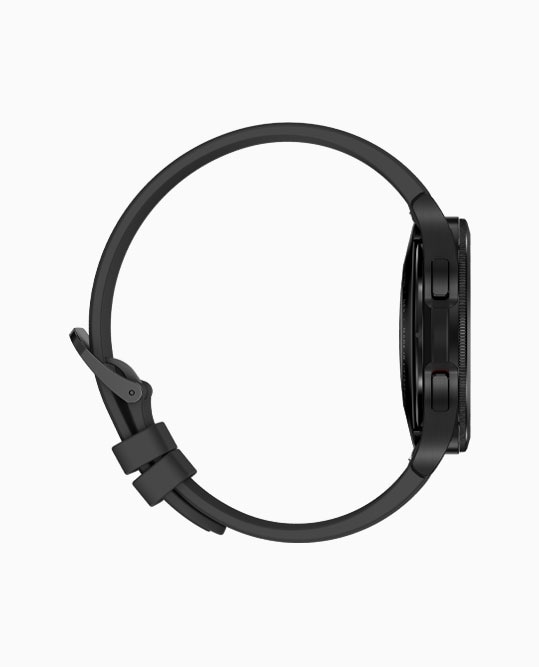 Healthy
starts
here
BODY COMPOSITION
Don't just listen to
your body. Know it
Track your fitness progress with our first smartwatch that conveniently measures body composition. Get to know your body fat percentage, skeletal muscle, body water, and more to achieve your goals. The Samsung BioActive Sensor and our fastest chip bring the biggest innovation to Galaxy Watch yet.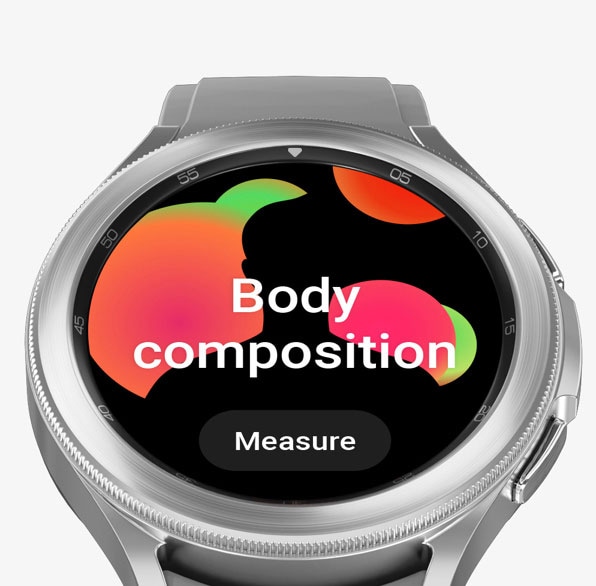 Get a BIA measurement using just two fingers in 15 seconds. Anytime, anywhere.
The new Samsung BioActive Sensor captures your body composition in real time to inform you as you manage your health goals.
DAILY ACTIVITY & FITNESS TRAINING
Name a workout. It can track it
Track your activities and fitness scores on your watch and phone. Count steps, check calories, and stay on the grid with GPS. Galaxy Watch4 Classic detects physical activity to track your routines and supports more than 90 exercises for a more accurate report of your workouts. 14
GROUP CHALLENGE
Your workout buddies have
your back
Following the text message, there are two emotes; a gush of wind and a set of eyes glancing left.
See you at the finish line, David! 
12:45 PM
The front of a Galaxy Watch4 Classic with a green band is shown, and its watch face displays "3rd place" in a walking Group Challenge with friends. Around the watch are diverse people cropped in a circle. There are text bubbles on the top left and bottom right, each pointing to its speaker.
Two exclamation point emotes are used before and after the words "Look out".
 Look out   Isabella is catching up…
12:46 PM
Enjoy every step you take with your friends and family with the Galaxy Watch4 Classic. Track your steps and compete with friends in a fun competition through a live message board. Challenges come with commemorative badges and a point system to make exercise fun, motivating, and socially rewarding.
HEALTH
A watch that's watching out for you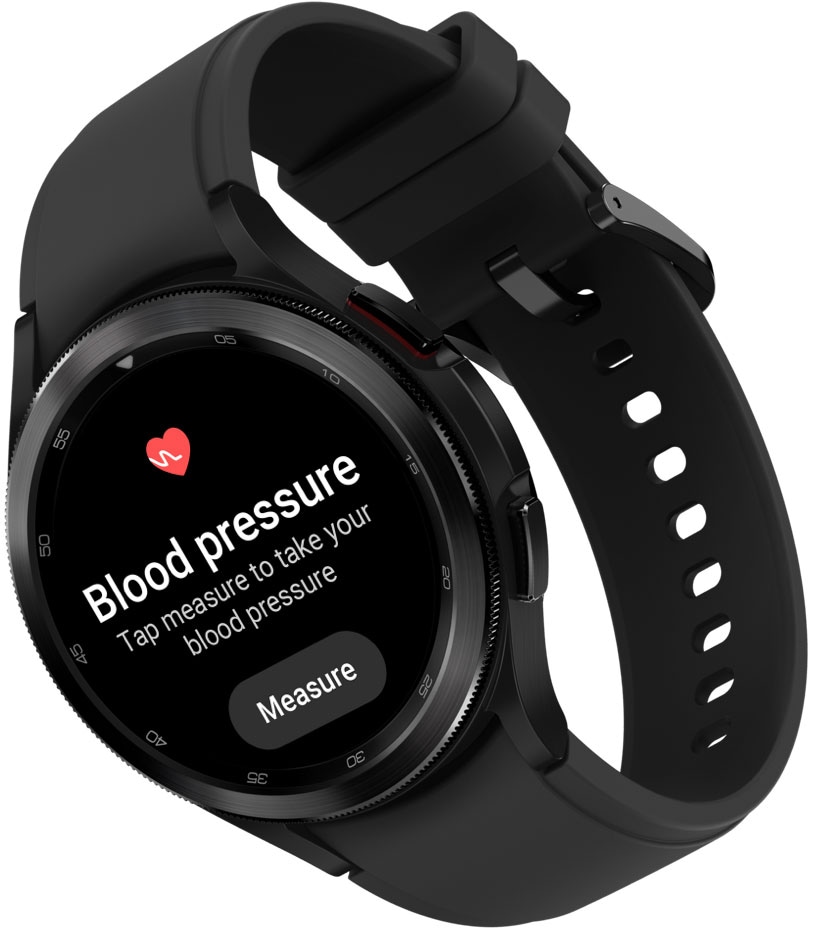 BLOOD PRESSURE & ECG
All the data your heart desires
Meet the Samsung BioActive Sensor that measures ECG and blood pressure in real-time. After initial calibration, the sensors quickly check your blood pressure. You can also check abnormal heart rate and rhythm through ECG and send data straight to your phone to be easily shared.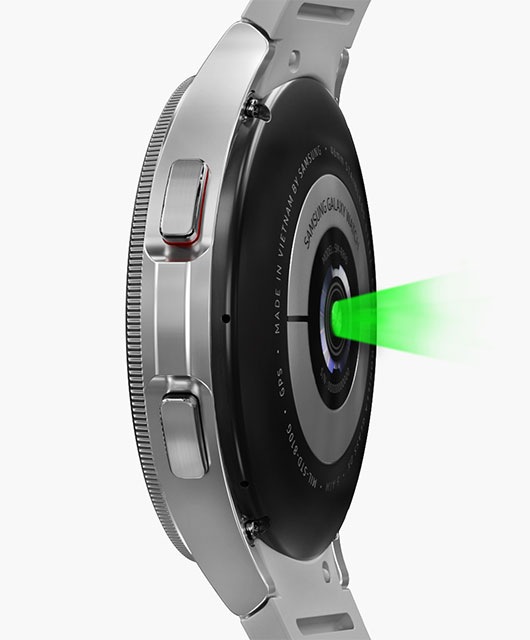 Blood Pressure Measure Blood Pressure using an Optical Heart Rate Sensor known as the PPG Sensor.
ECG Measure ECG using an Electrical Heart Sensor.
ADVANCED SLEEP
The most holistic sleep analysis on the Galaxy watch
A silver Galaxy Watch4 Classic device is shown with a silver band tied round and its watch face displaying the sleep tracking feature.
Product information
| | |
| --- | --- |
| Package Dimensions | 4.61 x 4.25 x 4.21 inches |
| Item Weight | 5.6 ounces |
| ASIN | B096BKVWZZ |
| Item model number | SM-R880NZKAXAA |
| Batteries | 1 Lithium Ion battery is required. (included) |
Your style. Your health. Look good and feel great with your smart, new companion, Samsung Galaxy Watch4 Classic. Make a stylish statement with an iconic silhouette and stainless steel casing, while your watch keeps you in tune with your health and pushes your fitness goals further. Make the most of every run with advanced coaching and oxygen level monitoring***** that help you exercise smarter while increasing endurance. Leave your phone behind while staying connected — call, text, and stream music, all from your wrist with LTE connectivity. Galaxy Watch4 Classic is health evolved. *The Samsung BIA is a body analyzer that uses bioelectrical impedance analysis (BIA) technology to track body composition based on weight, body fat, body mass index (BMI), skeletal muscle, body water, and basal metabolic rate (BMR) measurements. It is not intended to specifically diagnose or treat a medical condition. **The SpO2 measurement software is not intended for use in the diagnosis of disease or other conditions, or in the cure, mitigation, treatment, or prevention of disease. The snoring measurement requires a smartphone with Android 6.0 or later, 1.5GB of RAM, phone within 2 feet of the user, with snore detection enabled through Samsung Health app version 6.18 or higher. Requires Samsung Health app version 6.18 to view history. ***For clinical trial results concerning the accuracy of the ECG monitor, visit https//www.samsung.com/us/apps/samsung-health-monitor/. ECG monitor app is not intended to replace traditional methods of diagnosis or treatment and is for information purposes only. The ECG monitor app is not intended for users with known arrhythmias other than atrial fibrillation or users under 22 years old. Users should not interpret or take clinical action based on the device without the consultation of a qualified healthcare professional. Requires Samsung Galaxy smartphone with Android 7 or later and Samsung Health Monitor app available only at the Samsung Galaxy app store. ****Water-resistant up to 50 meters per ISO standard 22810:2010. Not intended for scuba diving. Avoid excessive, sudden temperature changes and high-velocity activities. Rinse in fresh water/dry after use in seawater or chlorinated water. This device and related software are not intended for use in the diagnosis of disease or other conditions, or in the cure, mitigation, treatment, or prevention of disease. *****Accurate VO2 max reading requires running outdoors for at least 20 minutes with GPS on; consult user manual before use. This device and VO2 measurement software are not intended for use in the diagnosis of disease or other conditions, or in the cure, mitigation, treatment, or prevention of disease. ******Google is a trademark of Google LLC. Google Maps: Must be paired with a smartphone running Android 6.0 or higher that supports Google Mobile Services. Google, Google Assistant, and YouTube Music are trademarks of Google LLC. *******Compatible with select Bluetooth-capable smartphones running Android 6.0 or higher and RAM above 1.5GB Galaxy Watch4 Series supported features may vary by carrier and compatible devices. For best results, connect with compatible Samsung Galaxy smartphone.