From Apple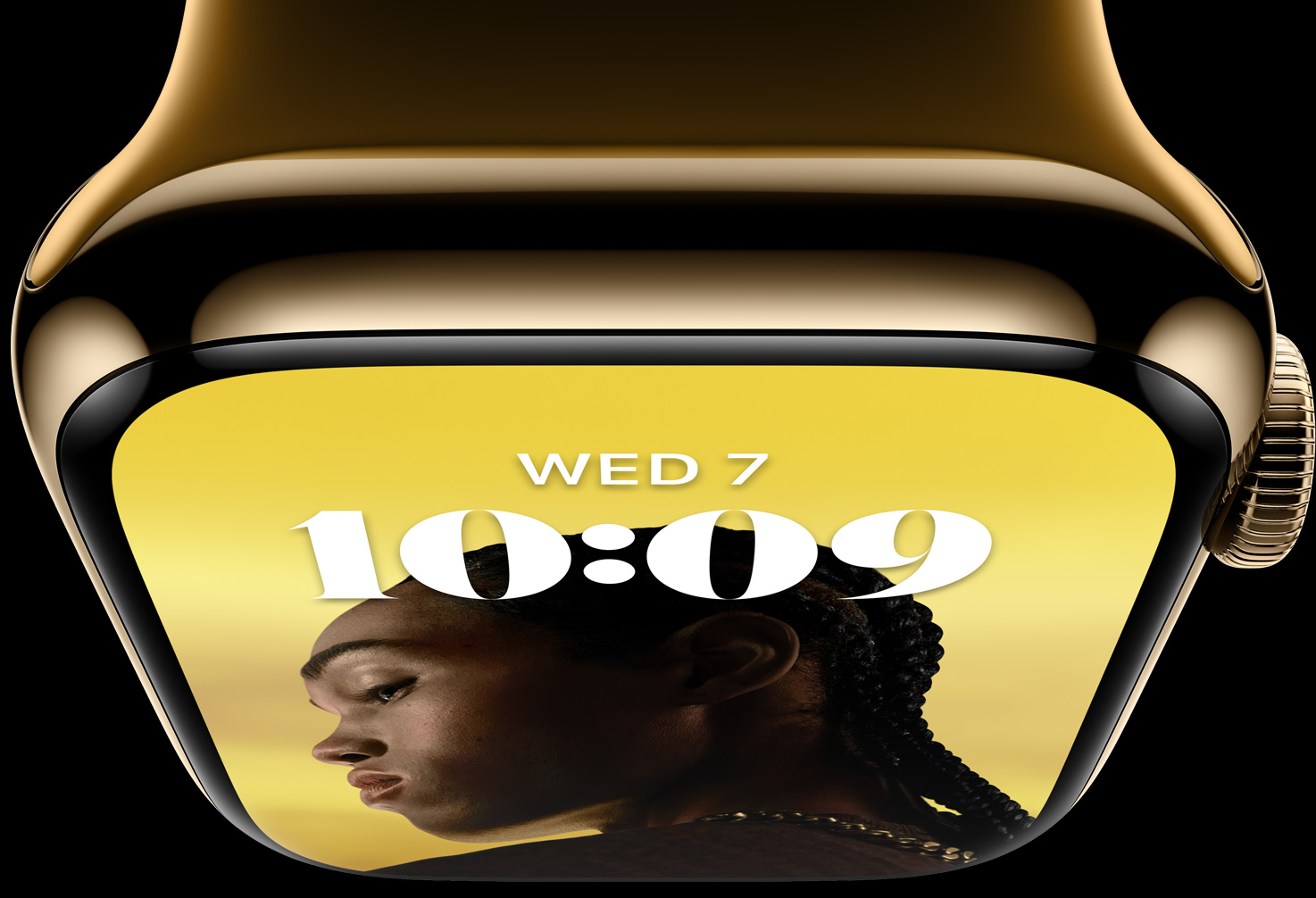 Your essential companion is now even more powerful. Introducing temperature sensing for deeper insights into women's health. Crash Detection to get help in an emergency. Sleep stages to better understand your sleep. And new ways to train using the enhanced Workout app. The future of health never looked so good.
Beautiful.
And made to
stay that way.
Smooth and seamless. The edge of design.
Apple Watch Series 8 features a big, brilliant Always‑On display. Narrow borders push the screen right to the edge, resulting in an elegant integration with the curvature of the case.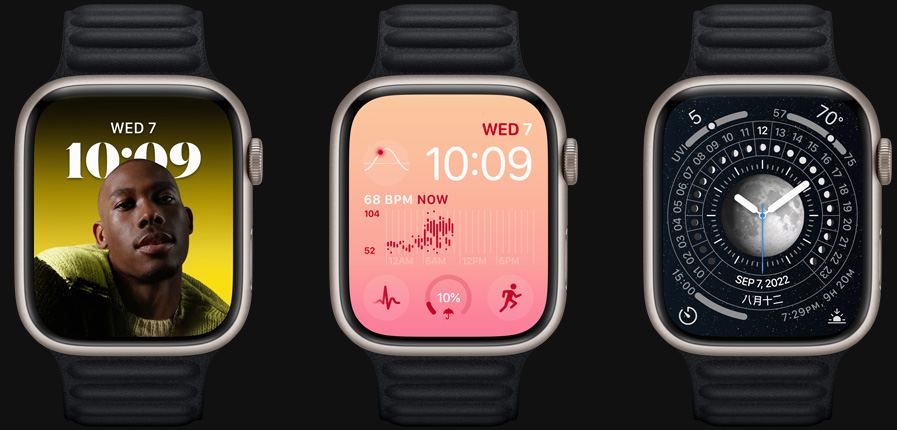 Always-On Retina display. Take it all in. Get it all done.
The bright Always‑On screen makes detailed watch faces look stunning and easy to read, even when your wrist is down. The large display accommodates all your favorite complications and makes tapping, typing, and swiping a snap.
Tougher
than tough.
The same innovations used to create the beautiful, edge‑to‑edge Always‑On display also help make it incredibly durable. A thick front crystal, robust geometry, and flat base make it resistant to cracking.
Water
Resistant
Swimproof with
WR50 water resistance.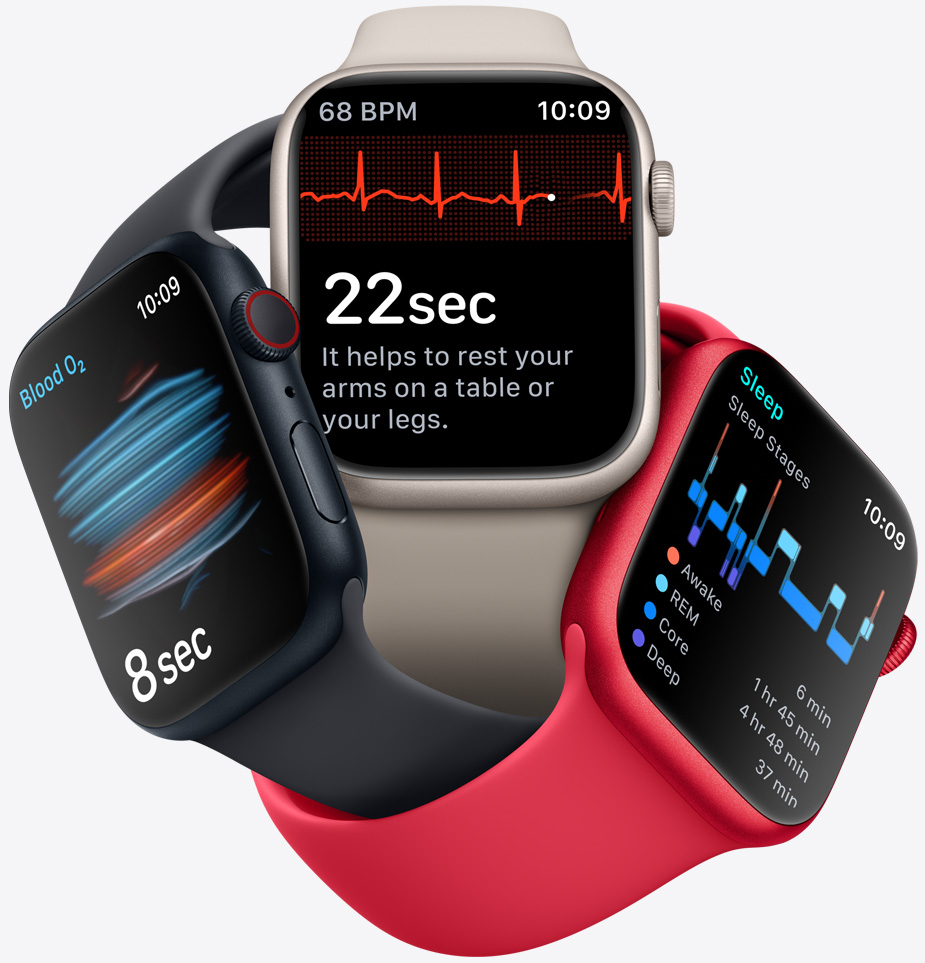 Here's to a healthier you.
The more informed you are about your health, the more empowered you are to affect it. Advanced health sensors in Apple Watch Series 8 provide insights to help you better understand your health.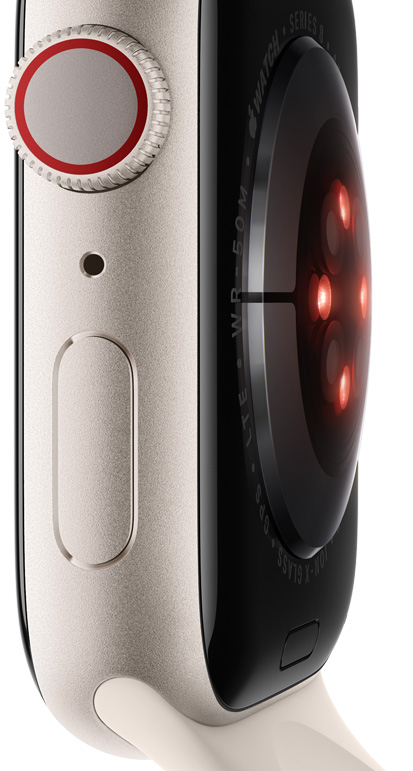 Introducing temperature sensing.
Understand your cycle like never before.
Apple Watch Series 8 has an innovative new sensor that tracks your temperature while you sleep, so you can see changes over time. Cycle Tracking uses this data to provide a retrospective estimate of when you likely ovulated, which can be helpful for family planning. When combined with your heart rate and logged cycle data, you'll get a detailed view of your menstrual cycle.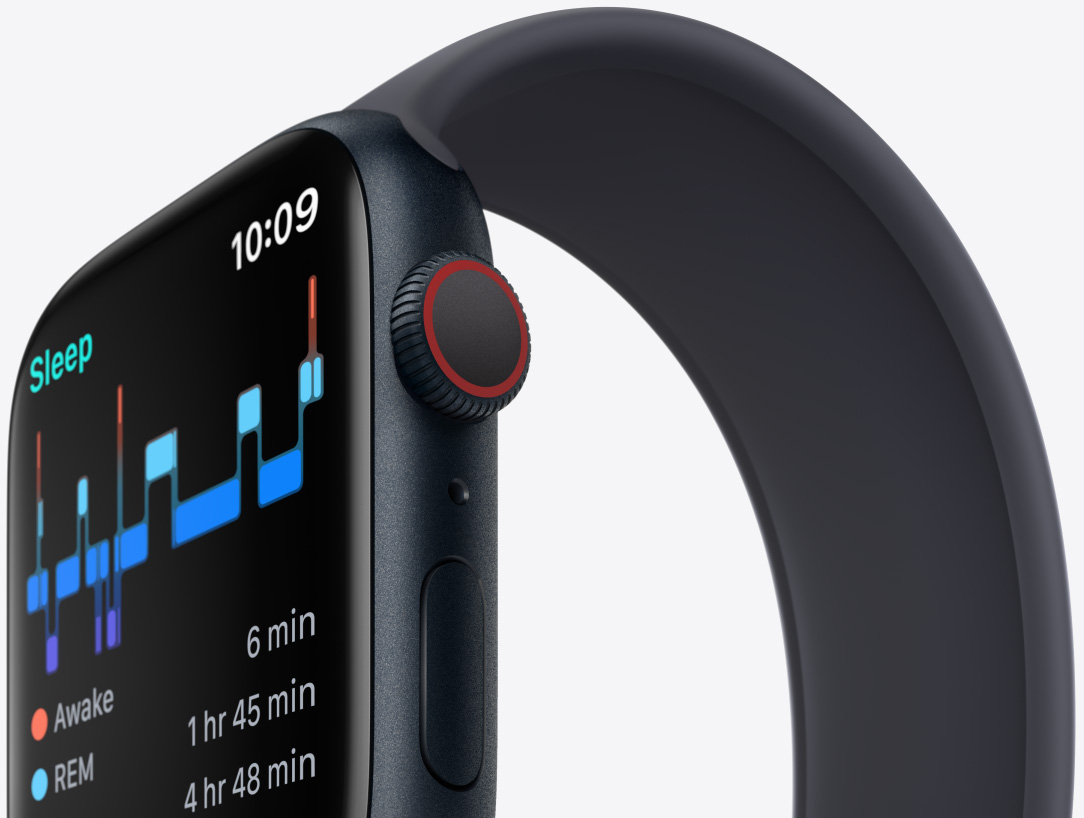 Dream machine.
The Sleep app doesn't just keep track of your time asleep. It shows you how much time you spent in REM, Core, or Deep sleep, as well as when you might have woken up.
Take an ECG at any time.
With the ECG app, Apple Watch Series 8 is capable of generating an ECG similar to a single‑lead electrocardiogram.
Measure your blood oxygen. It's a breathtaking innovation.
The remarkable sensor and app in Apple Watch Series 8 allow you to take on‑demand readings of your blood oxygen as well as background readings, day and night.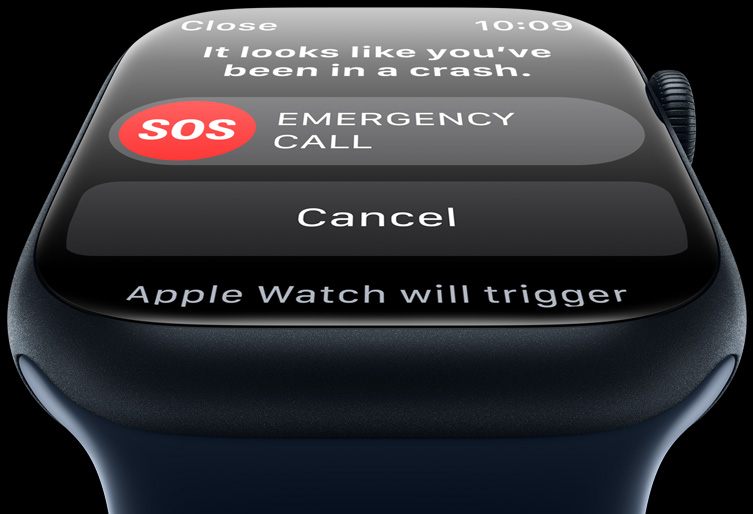 The innovation we hope you'll never need.
Introducing Crash Detection. Help on automatic.
For the first time, Apple Watch Series 8 is able to detect if you're in a severe car crash. When a crash is detected, Crash Detection can automatically connect you with emergency services, provide dispatchers with your location, and notify your emergency contacts. Crash Detection uses the combined power of an improved 3-axis gyroscope and a new g-force accelerometer that has the highest dynamic range in any smartwatch. It also uses a microphone, barometer, GPS, and an advanced sensor-fusion algorithm trained on over 1 million hours of real-world driving and crashes data to detect if you're in a severe crash.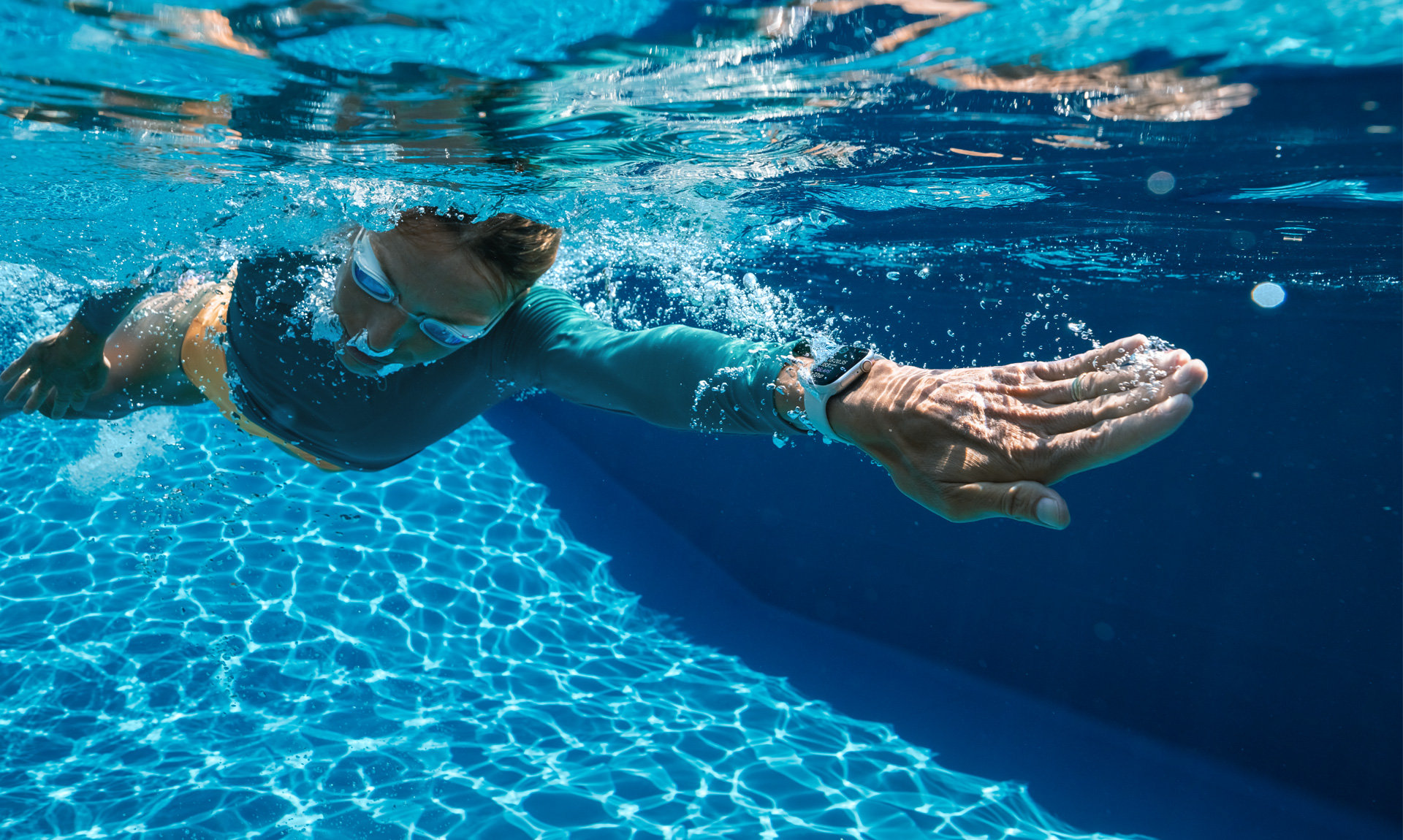 So much
to move you.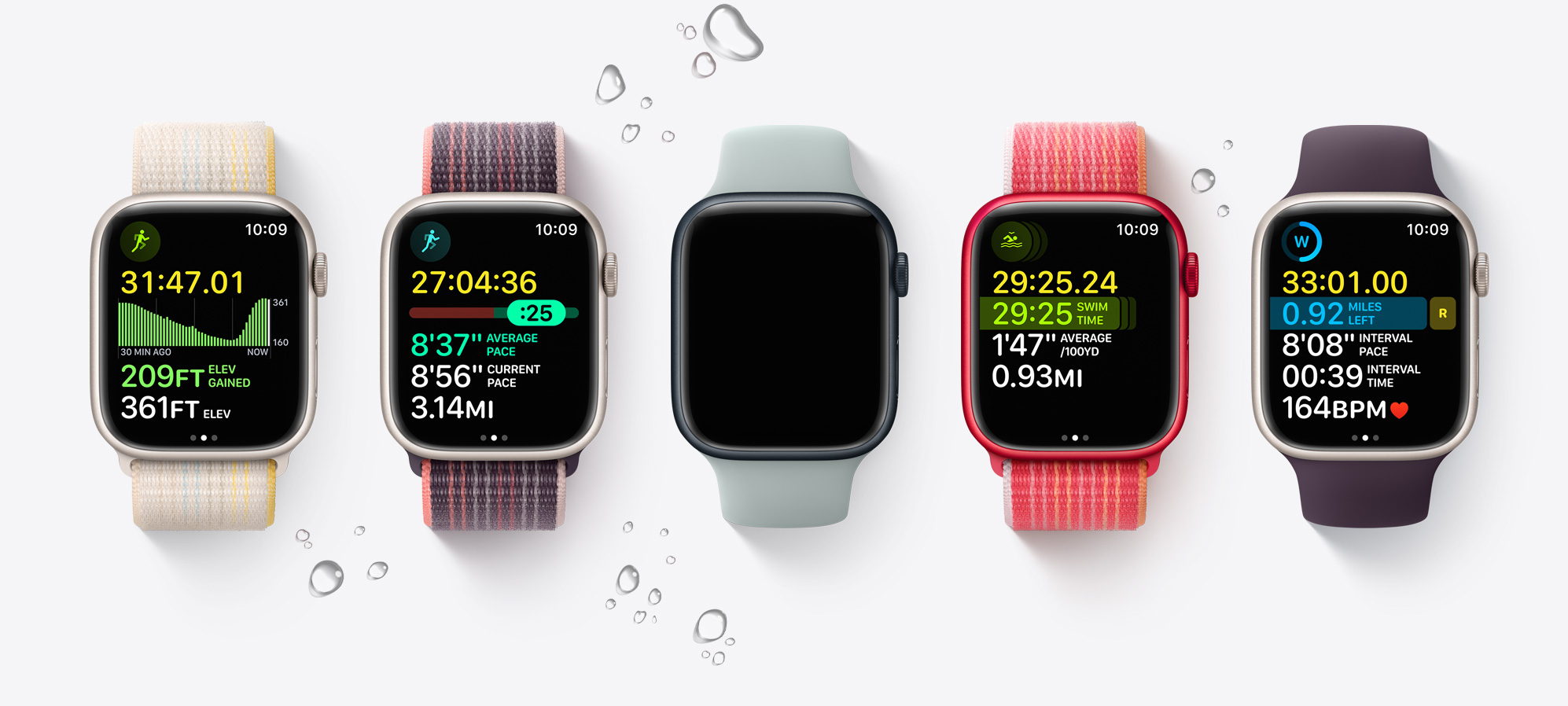 New ways to train. For your personal best.
Squat, spin, stride, you name it — Apple Watch has you covered in the enhanced Workout app. And with new Workout Views, you'll be able to see more advanced metrics at a glance like Heart Rate Zones and customized intervals to keep you going strong.

Heart Rate Zones.
Quickly get a sense of your intensity level. Training zones are automatically calculated and personalized using your health data, or you can create them manually.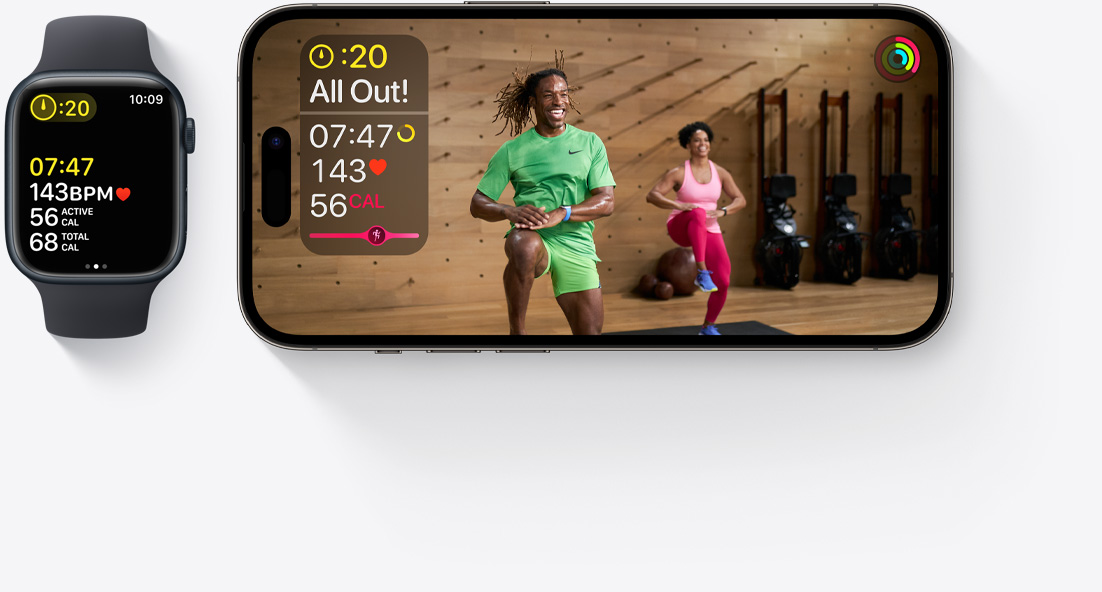 Take it further with Apple Watch.
Choose from 11 different workout types, plus audio-guided walks, runs, and meditations. Make every workout yours with modifications to match your level. Work out anywhere, anytime, from 5 to 45 minutes — with dozens of new additions every week. And see your personalized metrics in every workout with Apple Watch.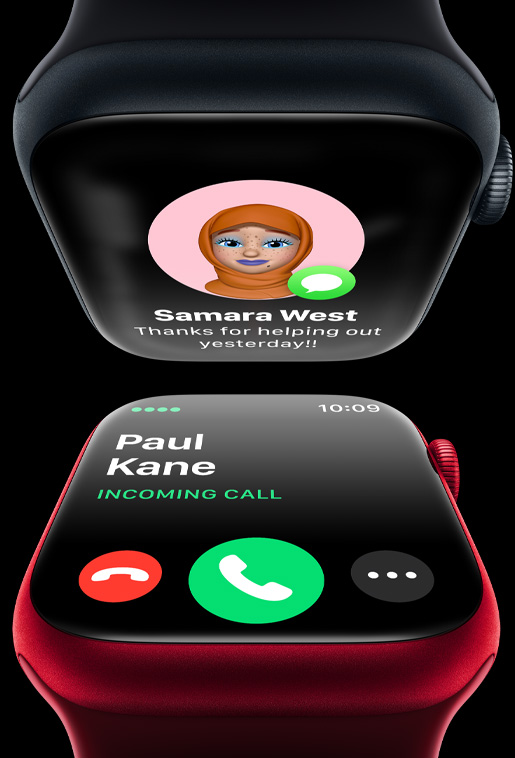 More connected,
far and away.
Out of the country, not out of touch.
With International roaming, make calls, send texts, stream music, and get help in an emergency in many of the places your travels take you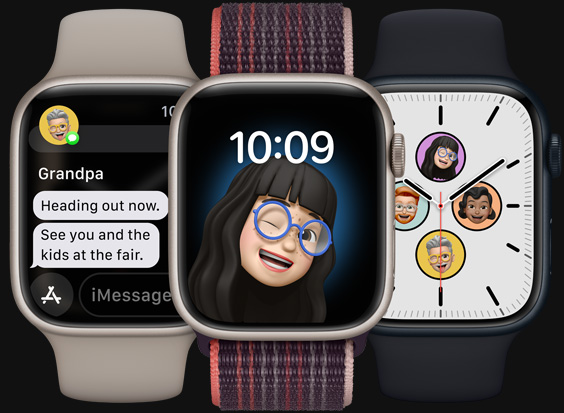 Your family
joined at the wrist.
With Family Setup, you can use your iPhone to pair watches for your children or older adults who don't have their own iPhones.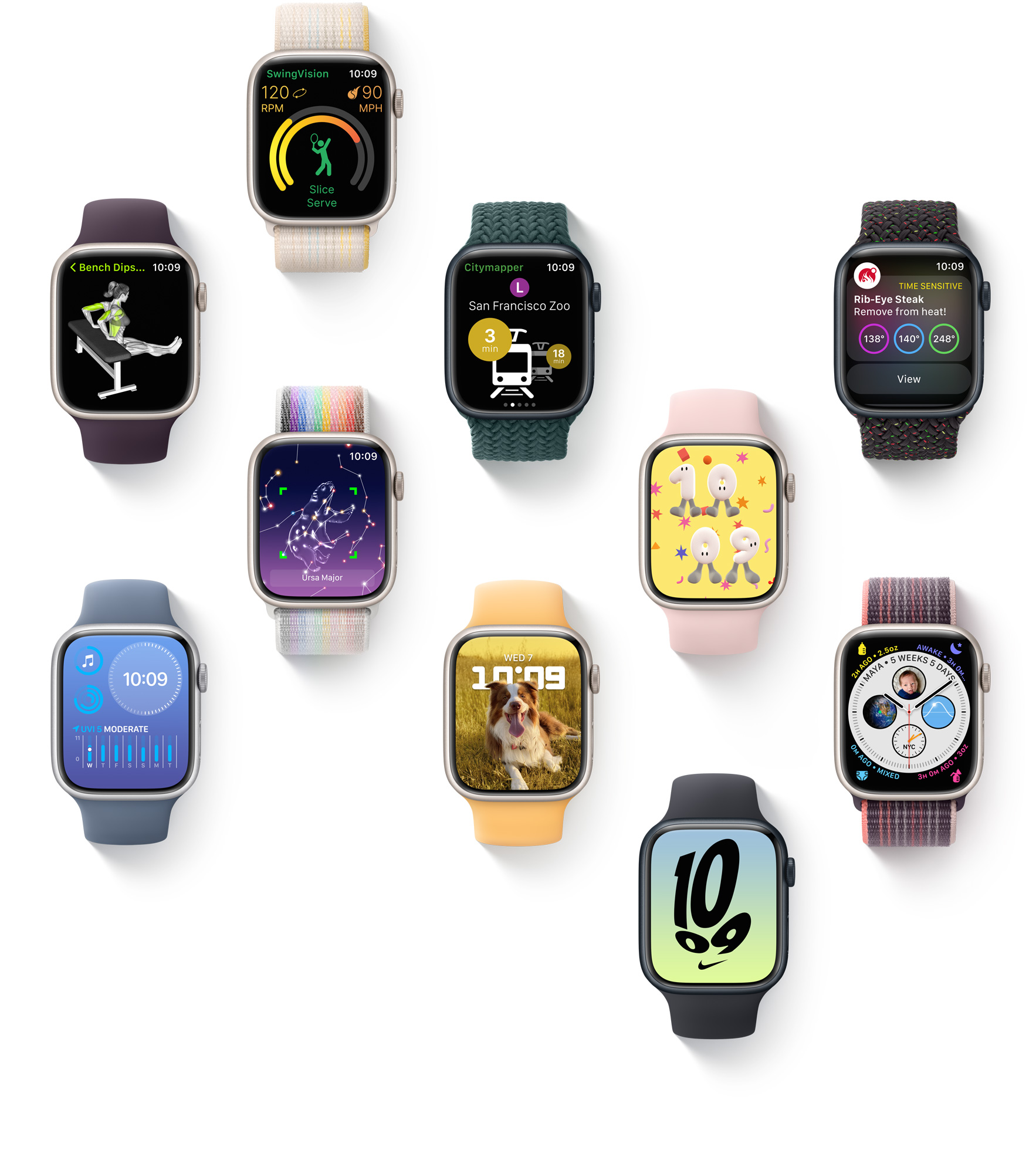 Thousands of ways to make it yours.
Your favorite apps on your wrist.
With access to tens of thousands of apps from the App Store right on your wrist, Apple Watch is the perfect personal device for whatever you love to do.
Use AR to see Apple Watch Series 8.
Just open this page in Safari on your iPhone or iPad.

A healthy leap ahead.